Kohta is very pleased to show a constellation of older and newer work by prominent photographer and video artist Sergey Bratkov. Born in Kharkiv in 1960, he has lived in Moscow since 2000, where he is a much-appreciated teacher at the Rodchenko School of Photography and Multimedia.
The exhibition title is intentionally simple and blunt. In the Finnish versions of the two cities' names identical endings appear. This seemed like an efficient device for juxtaposing what now represents two opposite worlds. We can let 'Harkova' stand for the political identity that the people of Ukraine is building for their own future and 'Moskova' for the fear of politics that Putin's regime has so successfully installed in the Russian public.
The slash of the title denotes relation without promising an easy way to resolve conflict. At this point it would be naive to see its rising diagonal as a possible compromise between the societal horizontality that keeps Ukraine alive and Russia's infamous power vertical. Needless to say, Bratkov's reluctance to abandon his young students in Moscow to an increasingly hostile surrounding reality creates a dilemma for him as a Ukrainian artist.
Kharkiv (or Kharkov in Russian, the language spoken by most if its 1.4 million inhabitants) was the capital of the Ukrainian Soviet Socialist Republic from 1919 to 1934 and is famous for its early Soviet constructivist architecture. It was the most populous city in the Soviet Union to be captured by Nazi Germany during the Second World War. After Russia's attack on Ukraine on 24 February it has been subjected to continuous artillery shelling. The Ukrainian armed forces have just begun a counter-offensive around Kharkiv.
Bratkov is from a family of engineers and architects and trained to be a scientist himself. After university he was assigned a job at the Institute of Low Temperature Physics in Kharkiv. At the same time he was starting to work as a artist, exhibiting photography from 1981 onwards and collaborating with other Kharkiv photographers of the 'Fast Reaction Group', Boris and Vita Mikhailov and Sergey Solonsky. Together they ran the Up/Down Gallery in the city in 1993–97. Bratkov has exhibited his own work extensively all over the world, participating in the Venice biennales in 2003, 2007 and 2011, in the São Paulo biennial in 2002 and in Manifesta 5 in San Sebastian in 2004.
The four works in the exhibition offer different lens-based articulations of enduring post-Soviet realities – observed and staged, personal and political, historical and everyday – that Bratkov, with his inimitable amalgamation of elegy and satire, compresses into visual micro-symphonies. To repurpose a politicians' commonplace, his images work on our 'hearts and minds' in almost equal measure.
The installation Refuge (2022) is the result a collaboration between Bratkov and some of his students at the Rodchenko School (Nikolay Alekseev, Katerina Beloglazova, Jegor Fedorichev, Asya Melnikova, Ilya Minin, Vladislav Mukhanov, Kolya Sadovnik, Oleg Ustinov and Igor Yanovsky) that took place on 6 April 2022. When the war started, the students wanted to follow the example of their peers at the Pro Arte School for Young Artists in St Petersburg and convene for nightly discussion and co-creation sessions. Bratkov asked them to configure their action differently, to sleep on the floor of the school's gallery, sharing their space of rest with tame doves, and to write down their dreams as they woke up in the morning. Bratkov's photographs of his Moscow students sleeping among the birds, and the projected extract of the surveillance camera footage from that night, echo the images from the Kharkiv metro of sleeping bodies seeking refuge from Russian bombs. The sheets on which the students wrote down their dreams are also exhibited.
On the opposite wall, painted a nuance of blue meant to evoke that used for the upper part of the walls in Soviet public institutions, the photographic series Birds (1997) is installed. This work is in itself a juxtaposition of photographs taken in two public institutions not far from Bratkov's parental home in Kharkiv, an orphanage and museum of natural history. The children are portrayed in all the squalor and innocence of the 1990s. From a a geopolitical bird's-eye view it may have seemed like a period of post-collapse freedom and hope, but to most former Soviet citizens it was marked by degradation. By combining the two sets of images Bratkov wants us to recall one of the facts about birds: that their well-nurtured young will once have to leave the parental nest to fend for themselves. But the birds photographed in the museum are stuffed corpses, so their freedom of movement is severely limited… The fate of these abandoned children remains uncertain at best.
The exhibition then shifts from wide-format visual metaphors of the human condition (in Kharkiv and Moscow and elsewhere, today and 25 years ago) to image-crystals of that same condition predicated on the lives of Bratkov's next of kin – but similarly staged and 'scripted' (if we can say that about visuals). The Rembrandt-like composition Portrait of My Father (2015) is one of the last photographs of this model, showing him as an old and ailing man, dignified if not well groomed. Born in 1922, Bratkov's father was an engineer who once nurtured ambitions to become an artist – he even had his work exhibited in the United States in the early 1940s – but then, like most of his contemporaries, had to serve in the Soviet Army during the Second World War.
Architectural Measurements (2018/2022) is a video installation in five movements on five screens, using one of the films Bratkov used to make in collaboration with his brother during his visits to Kharkiv. Bratkov is usually in front of the camera himself, but here the roles are reversed. His brother applies different methods, based on his own body and vision, to gauge the size of five rooms in a picturesquely ruined building that is, in fact, yet another Soviet-era public institution. For measuring the recreation room he uses his steps and for the bedroom his arms and hands. In the dining room he counts windows, in the kitchen tiles and in the game room the now-absent sections of cast-iron radiators (no doubt looted long ago and sold as scrap metal).
To conclude the one-channel version of this work, Bratkov writes: 'The short video you just saw was shot four years ago. My brother Yura, an architect, measures by steps the destroyed premises of a former children's tuberculosis sanatorium in the village of Pivdennoe in the suburbs of Kharkov, where he lives. Today, my brother counts the explosions of bombs outside the windows of his house. He practically doesn't move. He's sick. He's 75.'
The exhibition is organised in collaboration with OVCHARENKO, which represents Sergey Bratkov.
Avajaiset keskiviikkona 18. toukokuuta klo 18-20
Kohtan on ilo ilmoittaa seuraavasta näyttelystään, joka yhdistää tunnetun valokuva- ja videotaiteilija Sergei Bratkovin uutta sekä vanhempaa tuotantoa. Harkovassa 1960 syntynyt taiteilija on asunut vuodesta 2000 Moskovassa, missä hän toimii Rodtšenkon valokuva- ja multimediakoulun pidettynä opettajana.
Näyttelyn otsikko on tarkoituksellisen kaunistelematon ja suora. Sen kahdella kaupungilla on suomeksi samanloppuiset nimet. Niinpä ne rinnastamalla saa tehokkaan keinon merkitä kahta tällä hetkellä toisilleen vastakkaista maailmaa. Voimme antaa "Harkovan" edustaa Ukrainan kansan tulevaisuutensa varalle rakentamaa poliittista identiteettiä, ja "Moskovan" puolestaan sitä kaikkea poliittista kavahtavaa pelkoa, jonka Putinin hallinto on onnistunut istuttamaan Venäjän kansaan.
Vinoviiva kahden kaupungin välissä sen sijaan osoittaa suhdetta – lupaamatta kuitenkaan konfliktille helppoa ratkaisua. Tässä tilanteessa olisi sinisilmäistä koettaa nähdä sen diagonaalissa kompromissi Ukrainaa kannattelevan yhteiskunnallisen horisontalismin ja Venäjän pahamaineisen vertikaalisen valtarakennelman välillä. On selvää, että Bratkovin tahto olla jättämättä nuoria moskovalaisia oppilaitaan yhä vihamielisemmän ympäröivän todellisuuden armoille asettaa hänet ukrainalaisena taiteilijana kiperään tilanteeseen.
Sergei Bratkov, Turvapaikka, 2022, digitaalinen valokuva
Harkova (jonka 1,4 miljoonasta asukkaasta suurin osa puhuu äidinkielenään venäjää) oli Ukrainan sosialistisen neuvostotasavallan pääkaupunki 1919–34, ja se on tunnettu varhaisesta neuvostokonstruktivistisesta arkkitehtuuristaan. Se oli myös väkirikkain natsi-Saksan toisessa maailmansodassa valloittamista neuvostokaupungeista. Venäjän aloitettua hyökkäyksen Ukrainaan 24. helmikuuta se on ollut taukoamattoman tykistötulen kohteena. Ukrainan asevoimat ovat juuri käynnistäneet vastahyökkäyksen Harkovan ympäristössä.
Bratkov on insinööri- ja arkkitehtisukua, ja hän on saanut itsekin tiedemiehen koulutuksen. Yliopisto-opintojensa jälkeen hänet nimitettiin töihin Harkovan kylmäfyysiseen instituuttiin. Samoihin aikoihin hän käynnisteli taiteilijanuraansa, ja esitteli valokuviaan näyttelyissä vuodesta 1981 alkaen muiden harkovalaisten "Nopean reaktion ryhmän" valokuvaajien Boris ja Vita Mikhailovin sekä Sergei Solonskin kanssa. Ryhmä pyöritti yhdessä kaupungin Up/Down -galleriaa 1993–97. Bratkovin teoksia on ollut laajalti esillä ympäri maailmaa, muun muassa Venetsian biennaalilla 2003, 2007 ja 2011, São Paulon biennaalilla 2002 sekä Manifesta 5:ssä San Sebastianissa 2004.
Näyttelyn neljä teosta tarjoavat erilaisia kameralähtöisiä artikulaatioita neuvostoaikaa seuranneesta todellisuudesta – todistettuja tai lavastettuja, henkilökohtaisia tai poliittisia, historiallisia tai arkipäiväisiä kohtauksia – jota Bratkov pakkaa jäljittelemättömään elegiaa ja satiiria yhdistävään tyyliinsä visuaalisiksi pienoissinfonioiksi. Uusiokäyttääkseni vanhaa poliitikkojen latteutta: hänen kuvansa vetoavat yhtä hyvin mieleen kuin sydämeenkin.
Sergei Beartkov, Turvapaikka, 2022, digitaalinen valokuva
Turvapaikka (2022) on Bratkovin ja muutaman hänen Rodtšenkon taidekoulun oppilaansa (Nikolai Aleksejev, Katerina Beloglazova, Jegor Fedoritšev, Igor Janovski, Asja Melnikova, Ilja Minin, Vladislav Muhanov, Kolja Sadovnik ja Oleg Ustinov) 1. huhtikuuta toteuttaman tempauksen tuloksena syntynyt installaatio. Sodan sytyttyä opiskelijat tahtoivat seurata Pietarin Pro Arte -koulun nuorten esimerkkiä ja järjestää yöllisiä keskustelulle ja yhteiselle luomiselle omistettuja tilaisuuksia. Bratkov kehotti oppilaitaan rakentamaan aktionsa omalla tavallaan: nukkumaan koulun galleriatilan lattialla jakaen leposijan kesyjen kyyhkyjen kanssa ja kirjoittamaan herättyään ylös näkemänsä unet. Bratkovin kuvat hänen moskovalaisista oppilaistaan nukkumassa lintujen keskellä sekä projisointina nähtävä turvakameramateriaali tuolta yöltä tuovat kaikuja kuvista, joita alkoi samoihin aikoihin tihkua julkisuuteen Harkovan metrosta. Lepääviä vartaloita paossa Venäjän pommeja. Paperiarkit joille oppilaat kirjoittivat unensa ovat niin ikään näytteillä.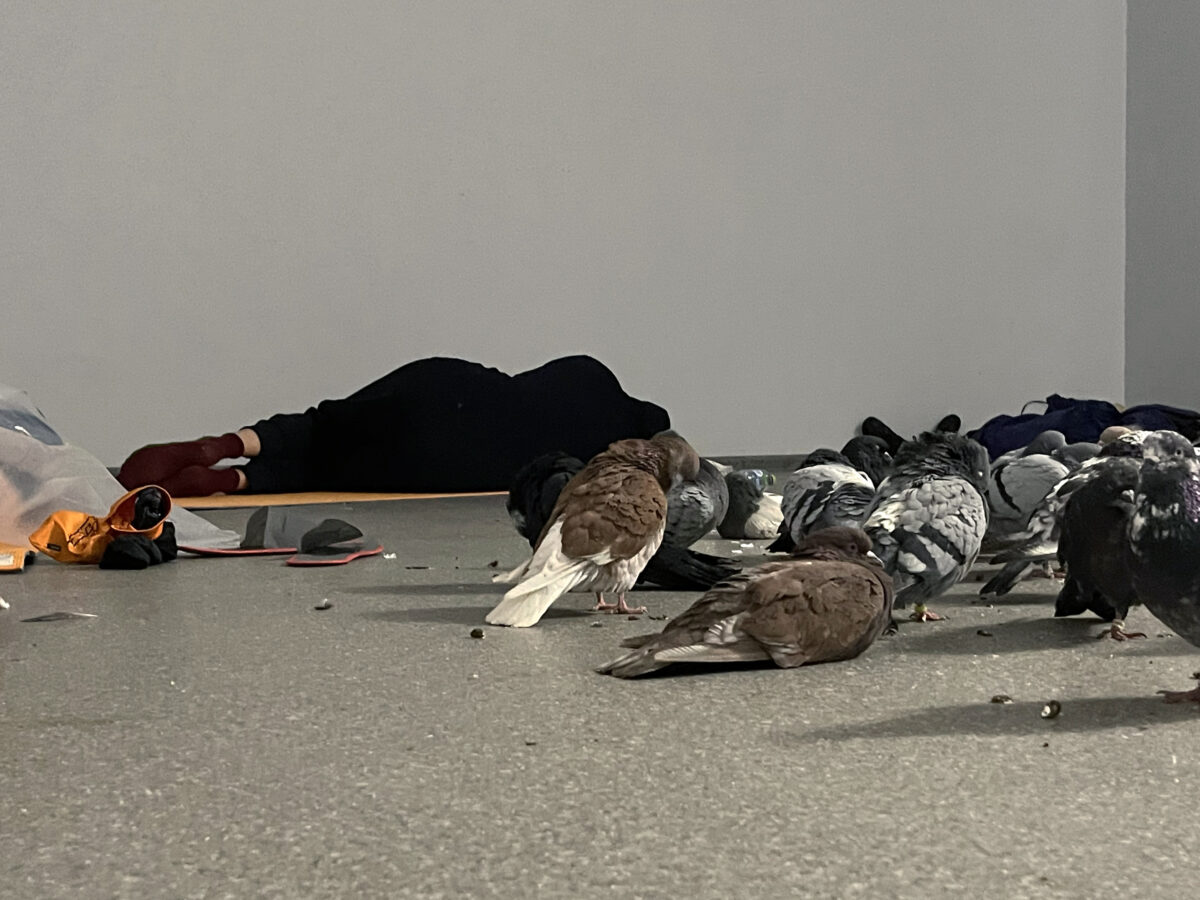 Vastakkaiselle, neuvostovirastojen yläseinien väristä muistuttavalla sinisen sävyllä maalatulle seinälle on ripustettu valokuvasarja Lintuja (1997). Teos asettaa rinnakkain kuvia kahdesta julkisesta laitoksesta – orpokodista ja luonnonhistoriallisesta museosta – lähellä Bratkovin lapsuudenkotia Harkovassa. Lapset on kuvattu keskellä 90-lukulaista viattomuutta ja kurjuutta. Geopoliittisesta lintuperspektiivistä katsottuna tuolloin elettiin ehkä romahdusta seuranneen vapauden ja toivon aikaa, mutta useimmille entisille neuvostokansalaisille se tarkoitti alennustilaa. Kaksi kuvasarjaa yhdistämällä Bratkov haluaa muistuttaa meitä eräästä lintuihin liittyvästä tosiasiasta: siitä, että hyvin ruokittujen poikasten on kerran lähdettävä pesästä ja lennettävä omine siipineen. Mutta museossa kuvatut linnut ovat täytettyjä ruumiita, joten niiden vapaus liikkua on varsin rajoittunutta… Hylättyjen lasten kohtaloa voi sanoa vähintääkin epävarmaksi.
Sergei Bratkov, Turvapaikka, 2022, digitaalinen valokuva
Sitten näyttely siirtyy ison formaatin kuvallisista ihmisen osaa (Harkovassa, Moskovassa ja muuallakin, tänään tai 25 vuotta sitten) käsittelevistä metaforista kohti kiteisempiä kuvia, jotka luotaavat samaa aihetta tarkentaen taiteilijan lähiomaisiin – nämäkin ovat lavastettuja tai "scriptattuja" (mikäli kuvasta voi näin sanoa). Rembrandtmainen sommitelma Isäni muotokuva (2015) on yksi viimeisistä mallistaan otetuista valokuvista. Se näyttää tämän jo vanhana ja heiveröisenä miehenä, kenties huolittelemattomana, mutta arvokkuus tallella. Bratkovin 1922 syntynyt isä oli insinööri, joka oli tahtonut taiteilijaksi – hänen töitään oli näytteillä Yhdysvalloissa asti 40-luvun alussa – mutta sitten hänen täytyi aikalaistensa lailla palvella neuvostoarmeijaa toisessa maailmansodassa.
Arkkitehtonisia mittauksia (2018/2022) on videoinstallaatio viidessä osassa ja viidelle näytölle. Se käyttää hyväkseen yhtä elokuvista, joita Bratkovilla oli tapana tehdä yhdessä veljensä kanssa visiiteillään Harkovaan. Yleensä Bratkov on niissä itse kameran edessä, mutta tällä kertaa osat ovat vaihtuneet. Hänen veljensä käyttää erilaisia silmämääräisiä ja kehoaan hyödyntäviä keinoja ottaakseen mitat viidestä pittoreskisti ränsistyneestä huoneesta rakennuksessa, joka on tälläkin kertaa neuvostoaikainen julkinen laitos. Virkistystilaa mitatessaan hän käyttää askeliaan, makuuhuoneessa käsiään ja käsivarsiaan. Ruokasalissa hän laskee ikkunoita, keittiössä laattoja ja pelisalissa valurautaisten lämmityspatterien paikkoja (itse patterit on arvattavasti ryövätty ja myyty romurautana jo aikoja sitten).
Bratkov kirjoittaa teoksen yksikanavaisen version yhteenvedoksi: "Lyhyt video jonka juuri näitte on kuvattu neljä vuotta sitten. Arkkitehtiveljeni Jura mittaa askelin entisen lasten tuberkuloosisanatorion tuhoutuneita tiloja Pivdennoen kylässä Harkovan esikaupungissa, missä hän itsekin asuu. Nyt Jura laskee pommien räjähdyksiä ikkunansa alla. Hän ei käytännöllisesti katsoen liiku sijoiltaan. Hän on sairas. Hän on 75-vuotias."
Näyttely on järjestetty yjteistyössä Sergei Bratkovia edustavan OVCHARENKO:n kanssa.
Vernissage onsdagen den 18 maj kl. 18–20
Kohta har glädjen att meddela att nästa utställning innehåller nyare och äldre verk av den framstående fotografen och videokonstnären Sergej Bratkov, född i Charkiv 1960 och sedan 2000 bosatt i Moskva, där han är en mycket uppskattad lärare vid Rodtjenko-skolan för fotografi och multimedia.
Utställningstiteln är medvetet enkel och direkt. I de finska versionerna av båda städernas namn uppträder identiska ändelser. Detta kändes som ett effektivt sätt att föra samman vad som har kommit att representera två motpoler. Vi kan låta "Harkova" stå för den politiska identitet som Ukrainas folk håller på att utforma för sin egen framtid och "Moskova" för den beröringsskräck inför allt politiskt som Putins regim så framgångsrikt inympat i den ryska allmänheten.
Snedstrecket i titeln anger förhållande utan att lova enkel konfliktlösning. I detta skede vore det naivt att se den uppåtsträvande diagonalen som en möjlig kompromiss mellan den horisontella samhällsmodell som håller Ukraina vid liv och Rysslands ökända maktvertikal. Bratkovs ovilja att prisge sina unga studenter i Moskva åt en allt fientligare omgivande verklighet skapar förstås ett dilemma för honom som ukrainsk konstnär.
Charkiv (eller Charkov på ryska, det språk som de flesta av dess 1,4 miljoner invånare talar) var huvudstad i Ukrainska socialistiska rådsrepubliken från 1919 till 1934 och är berömt för sin konstruktivistiska sovjetiska arkitektur. Detta var den största stad i Sovjetunionen som föll i Nazitysklands händer under andra världskriget. Efter Ryssland angrepp på Ukraina den 24 februari har Charkiv utsatts för närmast ständig artilleribeskjutning. De ukrainska väpnade styrkorna har just inlett en motoffensiv runt staden.
Bratkov kommer från en ingenjörs- och arkitektfamilj. Han fick själv en naturvetenskaplig utbildning och anvisades efter studierna en tjänst vid Institutet för lågtemperaturfysik i Charkiv. Samtidigt började han arbeta som konstnär. Han har ställt ut fotografi sedan 1981 och samarbetat med andra fotografer från Charkiv, Boris och Vita Michailov och Sergej Solonskij, i gruppen "Snabba reaktioner". 1993–97 drev de tillsammans galleriet Up/Down i staden. Bratkov har haft många egna utställningar runtom i världen. Han deltog i Venedigbiennalerna 2003, 2007 och 2011, biennalen i São Paulo 2002 och Manifesta 5 i San Sebastian 2004.
De fyra verken i utställningen utgör olika kamerabaserade gestaltningar av en seglivad postsovjetisk verklighet: iakttagna och iscensatta, personliga och politiska, historiska och vardagliga. Med sin oefterhärmliga blandning av elegi och satir har Bratkov komprimerat dem till visuella mikrosymfonier. För att återanvända en politikerkliché berör verken både "hjärtat" och "själen" ungefär lika starkt.
Installationen Skyddsrum (2022) uppstod ur ett samarbete mellan Bratkov och några av studenterna vid Rodtjenko-skolan (Nikolaj Aleksejev, Katerina Beloglazova, Jegor Fedoritjev, Igor Janovskij, Asia Melnikova, Ilja Minin, Vladislav Muchanov, Kolja Sadovnik och Oleg Ustinov) som utspelade sig den 6 april 2022. Efter krigsutbrottet ville studenterna i likhet med kollegerna vid Pro Arte-skolan för unga konstnärer i St Petersburg samlas för nattliga diskussioner och kollektivt skapande. Bratkov bad dem ge sin aktion en annan utformning och istället övernatta på golvet i skolans galleri, i sällskap av tama duvor, och skriva ned sina drömmar vid uppvaknandet nästa morgon. I Bratkovs fotografier av de sovande studenterna i Moskva, omgivna av fåglar, och i det projicerade utdraget ur övervakningskamerornas inspelning från samma natt, ser vi en återspegling av bilderna från tunnelbanan i Charkiv av sovande kroppar som söker skydd från ryska bomber. Dessutom visas pappersarken med studenternas nedskrivna drömmar.
På den motsatta väggen, målad i en nyans av blått som för tanken till övre delen av väggarna i sovjetiska offentliga institutioner, har den fotografiska sviten Fåglar (1997) installerats. Detta verk är ett iscensatt möte mellan fotografier tagna i två offentliga institutioner i närheten av Bratkovs föräldrahem i Charkiv, ett barnhem och ett naturhistoriskt museum. Bilderna av barnen utstrålar nittiotalets misär och oskuldsfullhet. Ur ett geopolitiskt fågelperspektiv kunde decenniet framstå som en period av frihet och hopp efter kollapsen, men för de flesta tidigare sovjetmedborgare var det en period av förfall och förnedring. Genom att kombinera båda uppsättningarna bilder vill Bratkov få oss att minnas ett särskilt faktum om fåglar: att alla deras välnärda ungar småningom måste lämna boet och ta hand om sig själva. Men fåglarna som fotograferats i museet är uppstoppade lik, så deras rörelsefrihet är kraftigt begränsad… De övergivna barnens öde förblir i bästa fall osäkert.
Därefter byter utställningen inriktning, från brett upplagda visuella metaforer om människans tillstånd (i Charkiv och Moskva och på andra håll, idag och för 25 år sedan) till bildkristaller av samma tillstånd utgående från Bratkovs närstående och deras liv – men iscensatta och "författade" på samma sätt (om man nu kan säga det om bilder). Den Rembrandt-liknande kompositionen Porträtt av min far (2015), ett av de sista fotografierna av denna modell, visar honom som en gammal och sjuk man, visserligen något vanvårdad men med värdigheten i behåll. Bratkovs far var född 1922. Han var ingenjör och hade en gång velat bli konstnär – och rentav ställt ut verk i USA alldeles i början av fyrtiotalet – men sedan måste han, liksom de flesta  av sina jämnåriga, tjänstgöra i sovjetiska armén under andra världskriget.
Arkitektoniska mått (2018/2022) är en videoinstallation i fem akter fördelade på fem skärmar. Den bygger på en av de filmer som Bratkov brukat göra i samarbete med sin bror under sina besök i Charkiv. Vanligen är det Bratkov själv som syns framför kameran, men här är rollerna ombytta. Brodern använder olika metoder, baserade på den egna kroppen och på ögonmåttet, för att uppskatta storleken på fem rum i en pittoreskt förfallen byggnad som i själva verket är ytterligare en offentlig institution från sovjettiden. För att mäta vilorummet använder han sin steglängd och för badrummet sina armar och händer. I matsalen räknar han fönster, i köket kakelplattor och i lekrummet sektionerna i de numera frånvarande värmeelementen av gjutjärn (utan tvivel för länge sedan stulna och sålda som metallskrot).
Som avslutning på den enkanaliga versionen av detta verk skriver Bratkov: "Den korta video du just har sett filmades för fyra år sedan. Min bror Jura, som är arkitekt, mäter stegvis upp rummen i ett tidigare tuberkulossanatorium för barn i byn Pivdennoe i Charkivs utkanter, där han bor. Idag räknar min bror bombexplosionerna utanför sitt fönster. Han kan knappt röra sig. Han är sjuk. Han är 75 år gammal."
Utställningen har organiserats i samarbete med OVCHARENKO, som representerar Sergej Bratkov.